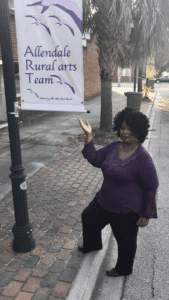 Before the coronavirus pandemic began, Lottie Lewis and the Allendale Rural Arts Team were collecting letters from residents about what they love about their community, and things they'd like to change. They had planned to hold a June gathering in which the letters would be read in silhouette.
When the pandemic began, those plans were put on hold. In their place, Lewis and her team began writing love letters of a different kind.
"We wanted to thank people on the front lines for allowing us to stay home," Lewis said.
They printed a banner with a message of gratitude and carried it around town to take photos with grocery store workers, medical teams and other service providers. They then printed the photos as postcards, with health and safety tips on the back to be distributed throughout the community.
But Lewis and her team wanted to amplify their gratitude. So, she had 8-foot tall letters created, spelling out "THANK YOU" and featuring a mural of front-line workers. Lewis, who also serves on Allendale Town Council, has arranged for the mural to be placed on Highway 278.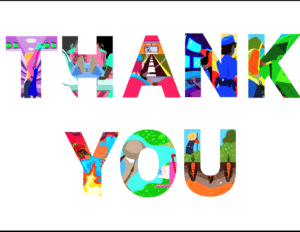 Lewis has been a "maven" for the South Carolina Arts Commission since the inception of their The Art of Community: Rural SC initiative in 2015. As a maven, she has led the nine-person Allendale Rural Arts Team in several community projects, including establishing an Image Award program that recognized local businesses for making cosmetic improvements and focusing on customer service. Some of their next goals are creating pocket gardens and other outdoor spaces, hosting outdoor movie nights, and reviving some of the town's historic buildings.
Lewis also owns Emma's Helping Hands House, an after-school program that provides tutoring, counseling and a safe haven for local students, many of whom come from families where the parents travel up to an hour each day to work at Hilton Head Island and other coastal areas. She saw first-hand how school closures created a hardship for those families, so she organized food drives to make sure they had access to food.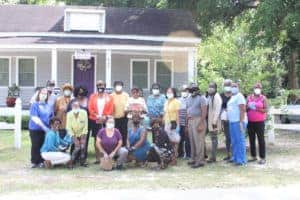 "Basically, we're trying to make sure no child is hungry," she said. "A large number of our children depend on the meal they get from the school. I just want to make sure that we are there as a support team no matter what the need is."
During the food drives, Lewis and her team also set up laptops and helped people respond to the 2020 Census, offering $20 gift cards to anyone who completed it. She said many of the local residents didn't realize the importance of the census until they learned that it helped determine funding and resource allocation.
"You gotta be in it to win it," Lewis said. "A town like ours needs that support."