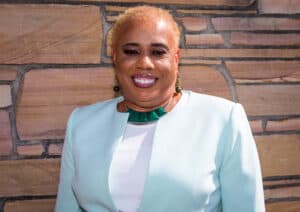 Virginia Berry White, director of the Family Solutions program for the SC Office of Rural Health (SCORH), has been named South Carolina's 2020 Community Star. The Community Star program is an initiative of the National Organization of State Offices of Rural Health (NOSORH) as a way to celebrate those serving the vital health needs of an estimated 57 million people living in rural America. This year, Community Stars from 48 states are recognized as part of National Rural Health Day on November 19, 2020.
White joined the SCORH staff in 1998 and currently serves as the director of the Family Solutions program, considered to be the leader in improving birth outcomes for the African American population in South Carolina's rural counties that are designated as primary care Health Professional Shortage Areas.
By building a program based on client education and support, and forging strong partnerships with local obstetric and pediatric providers, White has helped narrow the gaps in access, care and birth outcomes. In fact, because of her leadership, there were no infant deaths in 2013 and 2016 among the program participants.
"Virginia has worked tirelessly throughout her career to improve maternal and infant health in South Carolina," said Dr. Graham Adams, CEO for SCORH. "She plans to retire at the end of the year, and she'll leave behind a legacy of compassion and care for so many South Carolina families who are stronger and healthier because of her."
White was a key player in the development of the Community Health Workers Association and worked closely from the onset with the Center for Community Health Alignment. She is a part of the Vision Team of the SC Birth Outcomes Initiative and is also a member of DHEC's Maternal Mortality Review Committee.
She has been recognized by state and local organizations as an expert in the field of maternal and infant health and has garnered the respect of key leaders who serve at the national level. In 2019, U.S. Congressman James Clyburn presented White with the Community Leader in Public Health award at the University of South Carolina School of Medicine's annual Clyburn Health Disparities Lecture.
A social worker by training and an ordained pastor, White is also seen as a mentor and role model to the families she serves, and to those on her staff.
"Ms. White seeks opportunities to give voice to the sometimes-silenced women in rural South Carolina," said Lamikka Purvis Samuel, director of social work and perinatal manager for Family Solutions. "Ms. White saw, before it was popular, the importance of hiring women from within the community we serve. As a result, one of the most salient features of the Family Solutions program is that the staff can relate to participants because of shared experiences, including working to get their lives on track, build resilience, raise healthy children, secure education, find work and prosper."
Click here to view a tribute video to Virginia Berry White. To read the stories of White or any of the 48 Community Stars, click here.
# # #
About the South Carolina Office of Rural Health
The South Carolina Office of Rural Health (SCORH) is a non-profit organization with a mission to close the gap in health status and life expectancy between rural and urban communities in the Palmetto State. SCORH has been promoting investment, opportunity and health within rural communities since 1991.
With 27 percent of our state's residents living in rural areas, SCORH believes in preserving the unique character of rural communities without compromising their opportunities and access to critical services.