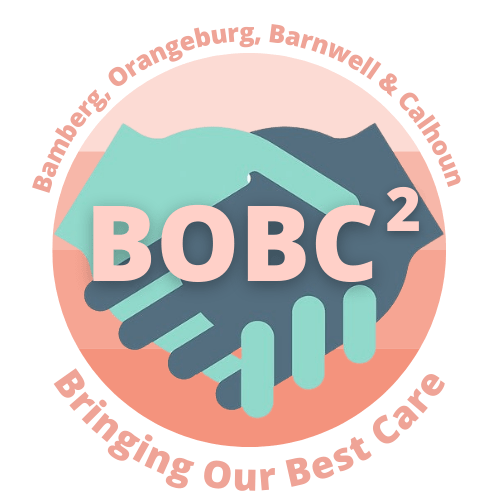 ORANGEBURG, SC – May 13, 2021. The BOBC2 collaborative (Bringing Our Best Care – Bamberg, Orangeburg, Barnwell and Calhoun) presented to community leaders a novel idea for addressing the behavioral health needs of young adults in their local communities.
The collaborative proposed a pop-up clinic model to provide easily accessible, community-based services for young adults in crisis, including suicide and psychiatrist inpatient prevention and psychiatric care. This concept was developed over the past four months, as coalition members met to gather data and assess gaps in behavioral health care within Bamberg, Orangeburg, Barnwell and Calhoun counties.
"Our meetings were fast-paced, forward thinking, and guided by group consensus," said Dee Ward Robinson, deputy director of the Tri-County Commission on Alcohol and Drug Abuse. "The group shared data and existing strategies to determine community strengths and gaps in service. Through this process, we developed the concept of this pop-up clinic model."
This process culminated with the May 13 meeting, in which collaborative members pitched the idea to community leaders, funders and stakeholders. The group hopes to have the first pop-up clinic in operation by the end of 2021. The plan represents the priorities identified by the collaborative: providing an easily accessible, community-based collaborative model with a mobile component; serving young adults ages 18-26 in crisis; preventing suicide and psychiatrist inpatient care; and providing psychiatric care.
"The project represents the first of many ways we hope the consortium gets utilized," said Doris Páez, a psychologist with Regional Medical Center. "BOBC2 plans to continue fostering cooperation, trust and action among behavioral health providers in the four counties so that we can make our communities stronger and healthier."
The BOBC2 collaborative includes a core committee with representatives from Orangeburg County, Regional Medical Center, the SC Office of Rural Health, and the Tri-County Commission on Alcohol & Drug Abuse.
"BOBC2 was created to strengthen partnerships, increase resource sharing and bridge gaps within our communities," said Jessica Seel, director of behavioral health initiatives for the SC Office of Rural Health.  "With the BOBC2, we are taking pieces from the SC Office of Rural Health's existing behavioral health consortium in Orangeburg, capitalizing on the momentum built from the crisis stabilization unit with the SC Department of Mental Health, and leveraging Regional Medical Center's commitment to community partnerships."